Helpful Tips For Selecting The Best Supplement Company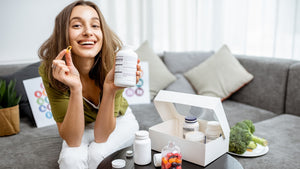 FDA does not allow factories or brands to talk about successful inspections.
The global vitamin supplements market is projected to reach USD 71.37 billion by 2028, with a CAGR of 6% growth over the 2021-2028 period. It continues its dominance as one of the most popular industries worldwide. It is so because people are becoming more aware of how vital nutritional intake can be towards their overall health and wellness.
In a large market, the competition is also fierce, and to beat the best, you have to be the best. Since its inception, the private label supplements industry has been an evolving and dynamic sector, and every company wants a share. Moreover, the growing consumer interest in health-enhancing foods offers novel opportunities for collaboration between scientists who discover new treatments formulated by the food distribution companies themselves with direct demand from consumers in mind. They help improve your general wellness and prevent chronic diseases like diabetes or high cholesterol levels, leading to heart disease.
Still, not every brand is worth trusting. This is because most brands use contract manufacturers to manufacture their supplements. The brand owners have limited knowledge of the technical aspects of manufacturing. In fact, they often shop around for the very lowest price, squeezing contract manufacturers to the last penny. Some even successfully bribe employees of contract manufacturers, putting a further squeeze on the factories. Many brands sold on Amazon look so amazing, but when you look under the hood, you find that they manufacture with factories that are NOT even GMP certified. We explain what this certification is further on.
Some complications that may arise can put second thoughts in the consumer's mind. So, are you looking to step foot in the private label supplements market but are not familiar with core details. Are you wondering which brand to sign up with? Or noticing that there's a considerable price difference between two similar products on the market? This can be mind-boggling. Still, there is no need to panic; we have put together this guide to explain helpful tips for selecting the best supplement manufacturer. 
Dr. Clark Store does NOT hire contract manufacturers! We actually manufacture the products we sell ourselves, at our own factory called Nutritional Supplement Manufacturers, Inc. DBA PureNSM. Our factory is registered with FDA under PureNSM and certified by NSF and UL to follow GMP protocols. Dr. Clark Store - Self Health Resource Center has been manufacturing supplements since 1993. In 2011 we started manufacturing for other brands. At that time, we split our company into two parts. Our company for our contract manufacturing business is called "Nutritional Supplement Manufacturers, Inc., (PureNSM) online at www.PureNSM.com. 
What Quality Icons To Trust and What Icon's NOT to trust?
Generally don't trust any "designer icons" that match the color and theme of the its displayed on. To make it simple for you, only trust two quality icons. The UL and NSF icons. 
When you see the VeriGMP seal on your products, please know that those products are manufactured in a facility that is both AUDITED and VERIFIED to be GMP compliant.
GMP certification is provided by UL and NSF
Once you see those icons you should quickly be able to click a link on the brand's website, that will lead you to a verification on the either www.UL.org or www.NSF.org -
To follow is an image of quality icons you should not put any weight on. Those icons are made by the brand in order to make you believe that the products they sell are quality products. Nothing could be further from the actual truth! There is absolutely no guarantee that the products displaying those icons are actually manufactured per GMP regulations.
GMP Certification by NSF or UL
Good manufacturing practices (GMP) is a much better verification of supplement manufacturers. NSF and UL are reputable organizations that award GMP certification. They ensure that manufacturers are using safe practices in the production process. Double-check the GMP certification on NSF and UL websites. Ensure that these products are certified. Product specification sheets and certification analyses are also vital documents. Buyers should always look at these docs before making a purchase. Ask the supplement seller if they are outsourcing the production. These questions will help you to avoid fraudulent sellers. 
If Identity Verification Passes, Then We Check Potency
Identity verification checks out? Good, but it is not enough for selecting a quality ingredient. You also need to check the potency per GMP protocols, whenever potency is stated on the label. Without identity, potency and purity tests done in a systematic way you significantly increase both safety and possibility of effectiveness, why bother buying a supplement that isn't manufactured per GMP standards?
Member of NPA
Natural Products Association (NPA) works alongside other organizations to verify dietary supplements. They issue GMP certification to companies that fulfill the regulatory requirements. NPA membership is a great way to validate supplement manufacturers. The organization helps suppliers, distributors, and manufacturers to adhere to the guidelines. It ensures safety while boosting the reputation of supplements. NPA members have to follow specific rules. So, you should always look if a manufacturer is an NPA member. 
Supplement Facts Box
The supplement facts box refers to the label that displays ingredient information. For example, it shows if the product has minerals, vitamins, and anything else. Avoid supplement manufacturers that do not display the supplement facts on their website. Any attempt to hide ingredient and nutritional information is an indicator of ill intent. Honest and certified manufacturers never hide their supplement facts. Such concealment violates consumer rights. Therefore, leave the website if the supplement facts are not clearly stated.
Clear and Easy to Read Labels
Product labels are the primary source of information for consumers. So, manufacturers must attach coherent product labels to the supplements. It is also an indicator of transparency. Genuine supplement manufacturers advertise the ingredients inside their products. However, fraudulent supplement manufacturers hide the product label. They also make the label hard to read. These practices lower the transparency and reliability of brands. It shows that they are wilfully hiding product information.
Bold Claims
Bold claims are red flags, especially if not backed up by research or statistics. Empty claims without any tests or proof are signs of scammers. Never engage in business with organizations that make extraordinary claims. Always ask for independent studies and verification. So, supplement manufacturers with bold claims are not suitable. 
Magnesium Stearate
Magnesium stearate is a chemical compound found in most dietary supplements. It's used as a manufacturing aid to make the active ingredients flow easier with equipment. This cuts down production time and makes the end product cheaper to make, which many brand owners like.
This salt-like substance works well with almost anything. However, it has several side effects. Diarrhea and bowel problems are frequent consequences of magnesium stearate. Therefore, you should select a supplement that does not contain magnesium stearate.
FDA Certification or FDA Approvals are Red Flags!
FDA does not certify or approve any supplements. If a supplement manufacturer claims to be FDA Certified, they are likely running a hoax. So, do not trust products that claim "FDA certification". The use of the phrase "FDA Certified" is a red flag, a false claim and a clear indication of both ignorance on how things work. It's an unscrupulous marketing tactic.
Product Recalls & Compulsory Label Requirements
Product recalls are severe red flags. It shows you that there is a severe problem with the supplement. So, quality assurance is necessary for any product. In addition, every supplement needs to meet government regulations. Organizations such as PureNSM ensure that every product meets the compulsory requirements. So, it is crucial to check that supplements meet the mandatory requirements.
HPTLC Scanning & Additional Lab Testing
HPTLC = ID testing device that will determine in a systematic fashion the source of an herbal ingredient. What species the herb is and from what plant part, and if the herb is spent, meaning its active compounds have been extracted, leaving only inactive herbal mass.
HPTLC scanning determines the source of herbal ingredients. It identifies the species of herbs and evaluates if the herb has lost its efficacy. Herbal mass remains even after an herb has lost its nutrients. So, HPTLC scanning helps to weed out impotent herbs. Ensure you are buying HPTLC scanned products whenever shopping for herbal supplements.
Scanning or detection is one of our topmost priorities. We scan every herb to ensure it is free of botanical contaminants. GMP testing, lab testing, and botanical testing. So, you can rest assured your supplements go through several tests. Heavy metal analysis, microbiology, and potency testing are methods we use as well.
Non-Reactive Harmless Excipients
Clean ingredients are essential for supplements. Using poor excipients leads to contamination of supplements. Excipients are bodies that are responsible for carrying the medicine or substance. Capsules or other coatings are examples of excipients. These substances must be non-reactive.
On-Site Visits
On-site visits are also perfect ways to find the legitimacy of a supplement manufacturer. If possible, visit the manufacturer. Transparency is the key in the supplement industry. Outsourcing often means that the company is not aware of the processes. On-site manufacturing indicates they control every production process. So, look at their factory to see if the brand is legitimate.
---