Is There Any Truth Behind Gargling to Prevent Upper Respiratory Infections?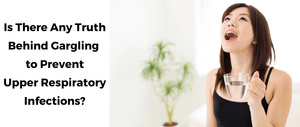 Well, we're still in the thick of COVID-19. And it sounds like we could be for a while longer.
With the uncertainty of an available vaccine any time soon, and debate over whether or not a certain malaria drug is also suitable for COVID-19, a lot of us are looking at other prevention options.
Besides social distancing, wearing a face mask in public, and being hyper diligent about washing our hands, is there more we can do to prevent catching this strain of coronavirus? Should we consider adopting preventative measures being used in other countries?
For instance, in Japan preventative gargling is an accepted practice. In fact, it's recommended as part of the Japanese government's Influenza Preparedness Action Plan, along with regular hand washing and face mask wearing.
A small study from Japan looked at the long-term use (from several months to over two years) of povidone-iodine gargling to prevent respiratory infections. The results showed a significant decrease in infections caused by certain bacteria, including Haempogilus influenzae (pneumonia, ear infections), Pseudomonas aeruginosa (pneumonia), and Staphylococcus aureus (pneumonia, MRSA).
Another study from Japan examined the effectiveness of povidone-iodine compared to other antiseptics. It concluded that povidone-iodine products had a measurable effect across a wider spectrum of both enveloped and nonenveloped viruses than other widely used antiseptics.
A study from Germany looked at the use of povidone-iodine gargle against viruses in the oral cavity and respiratory tract. Although funding came from the manufacturer of a povidone-iodine gargle solution, the study showed bactericidal and virucidal effects, including the inactivation of coronaviruses that cause SARS, MERS, and H1N1.
Povidone-iodine is a well-known antiseptic. Apparently, gargling with it is common practice in other parts of the world to prevent respiratory infections. So why don't we do it in the United States?
It's available over-the-counter, and it's typically a standard item in the first aid aisle of most stores, but in the US, povidone-iodine has only been approved for topical use. It's commonly used as a skin antiseptic for minor cuts, scrapes, and burns. Hospitals and medical offices use it to sanitize the skin before surgery or needle punctures.
If you buy a bottle of povidone-iodine in the US, the label explicitly states that it's For External Use Only. That's because in the US, povidone-iodine is usually mixed with other ingredients that are not suitable for ingestion.
DO NOT GARGLE WITH SKIN DISINFECTANT SOLUTIONS, INCLUDING ONES THAT CONTAIN POVIDONE-IODINE.
Outside the US, like in Southeast Asia and Canada, the Betadine brand makes a povidone-iodine gargle solution and throat spray.
So what's the hold up for approving povidone-iodine for oral use in the US? Perhaps it has something to do with the use of iodine in the manufacturing of illegal narcotics. But this really only applies to iodine crystals and strong iodine solutions (greater than 2.2%). Preparations of iodine complexed with a stabilizing agent, as in the case of povidone-iodine, prevent the extraction of iodine, making it unsuitable for manufacturing drugs.
If the US Food and Drug Administration would consider testing food-grade preparations of povidone-iodine, maybe we too could explore a wider range of benefits from such an amazing disinfectant. 
So is there any truth behind gargling to inhibit upper respiratory infections?
The idea behind gargling is that the act disrupts the reproduction of germs causing upper respiratory infections. When done correctly, gargling projects the solution to the deeper areas of the throat where pathogenic bacteria and viruses may be hiding out.
It's a bit of a mixed bag of results when it comes to establishing the efficacy of gargling to prevent upper respiratory infections. Some studies found that simply gargling with water was more effective than gargling with an antiseptic solution, while others looked at gargling tea to prevent the flu. Credibility of some studies was called into question due to small participant sizes and the relationship between the scientific body carrying out the study and the people providing the funding (some bias was suspected).
There's a general consensus that there needs to be larger, more focused studies that conclude that gargling is a preventative measure. Then maybe the governing bodies in the US will make it part of its recommendations for communicable respiratory illnesses and widen the use of some antiseptics to include gargling and throat sprays.
Until then, decide for yourself if gargling should be part of your immunity routine. Whether it's with plain water, salt water, apple cider vinegar or an approved povidone-iodine solution, there doesn't seem to be any downside to doing so. And keep up the social distancing, mask wearing, and hand washing. 
For more essential reading during the COVID-19 chaos, learn about three amazing, natural antiviral compounds that few people know about. 
Read More:- 8 VITAMINS & MINERALS THAT BOOST YOUR IMMUNE SYSTEM DURING COVID-19
---